Contents

Replenish lost volume and restore your youthful appearance,
What is Facial Fat Grafting?
If you've been losing fullness and youthful volume in your face, facial fat grafting or facial fat transfer might be the perfect solution. Many people are bothered by hollow cheeks and thinness as they get older. This is because fat cells naturally shrink as we age; the loss of collagen and elastin also doesn't help regarding sunken skin and wrinkles. Fat injections are a great way to restore volume and regenerate healthy tissues.
Fat has one of the highest concentrations of stem cells in the body. Stem cells are extensively used in regenerative medicine because they can renew themselves and promote healing and tissue growth in the treatment area. This makes fat grafting the perfect treatment for natural-based rejuvenation and long-term improvements in skin quality.
Would You Benefit from Facial Fat Grafting?
Fat grafting has simultaneous benefits: improved facial volume and more defined contour. Since your own fat cells are used during the procedure, instead of synthetic dermal fillers or implants, there is no risk of an allergic reaction. The ideal patients are in overall good health with noticeable volume loss in the face. Fat grafting can be used to improve the look of:
Sunken cheeks
Under-eye hollows
Hollowed temples
Nasolabial folds
Fat grafting can be performed or in combination with laser resurfacing or other facial surgery procedures. At your consultation, Dr. Ghafouri will discuss all your concerns to develop a personalized treatment plan that safely and effectively meets your goals.
The Facial Fat Grafting Procedure
Micro fat grafting is typically performed under local anesthesia. First, liposuction will be performed to remove excess fat cells from the donor area (typically the abdomen, buttocks, or thighs). Tiny incisions will be made, and a small cannula (hollow tube) is inserted under the skin to suction fat out.  These fat cells are then purified and transferred to a thin needle. Next, Dr. Ghafouri will inject micro-droplets of the transferred fat cells into strategic points of the face, a technique called micro-fat grafting. This technique involves injections into multiple layers of the skin to create a more natural look and maximize the survival rate of the cells, leading to longer-lasting results.
Facial Fat Grafting Recovery
After facial fat grafting, patients can expect about one week of downtime. Swelling and bruising will occur in both the injection areas and donor sites where liposuction was performed. To minimize swelling, strenuous exercise should be avoided for a few weeks but most other normal activities can be resumed within 7-10 days. In about six weeks, swelling will gradually go down and you will begin to see the results of your fat grafting treatment.
Procedures to Combine with Facial Fat Grafting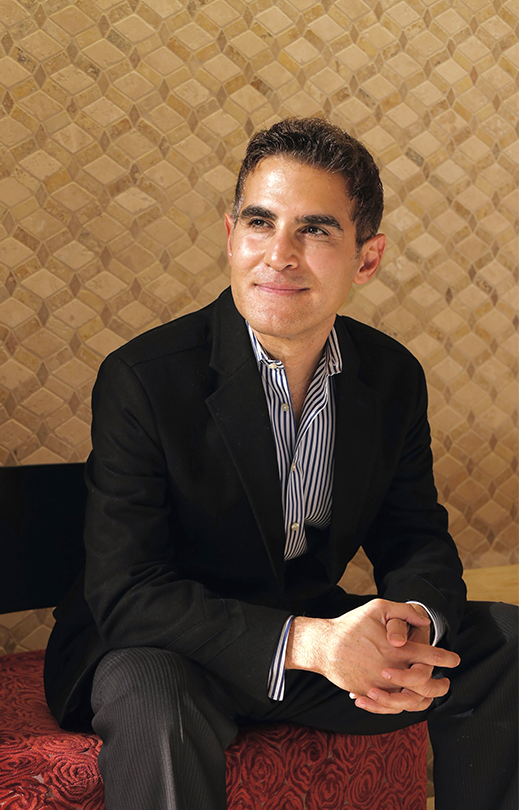 Dr. Ghafouri MD, FACS, is a board-certified ophthalmologist with specialized training in oculoplastic and orbital surgery. His exclusive specialization in cosmetic and reconstructive eyelid and facial surgery sets him apart from other plastic surgeons who practice a larger range of facial and body surgeries. The eyes are a complex and dynamic structure that requires the trained eye of an eyelid surgeon like Dr. Ghafouri to achieve the best possible results. He has performed over 12,000 aesthetic and reconstructive surgeries, each with a personalized approach and commitment to exceptional results.
Learn More
SEE OUR PATIENTS'
"It's not too often that you find an office where you are impressed not only with the doctor, but also the staff. Dr. Ghafouri is professional and honest and doesn't try to upsell procedures if he doesn't think they're the best option. The aesthetician in his office (Kim) is wonderful. I never feel rushed and she always encourages questions. I'd highly recommend this office to anyone looking for expert and attentive care."
"I give Dr. Ghafouri the highest rankings in all categories! He is kind, patient, compassionate and above all, a brilliant surgeon! I wish he could be my doctor for everything medical! Thank you Dr. Ghafouri! I have also used Kyle for injections and she is patient kind and so knowledgeable! Made the experience painless and comfortable!!!! Truly a wonderful office with a sweet staff all around!"
"Wonderful office. The whole staff and providers are fantastic."
Dr. Ghafouri offers virtual consultations for out-of-town patients. We see patients from all across the country who trust Dr. Ghafouri's unique skills and expertise for their facial or eyelid surgeries. If you choose to travel to Arizona for your surgery, we can also recommend hotels and other resources to make your stay comfortable.
To schedule a virtual consultation with Dr. Ghafouri Click here.
Contact Us
What procedure are you interested in?
What procedure are you interested in?