Contents

Reconstructive surgery with aesthetic benefits.
What is Ptosis?
Drooping upper eyelids, caused by weakened eyelid muscles, not only give a person an aged, tired appearance but also interfere with vision. In eyelid ptosis, the upper eyelid margin (the edge of the eyelid) falls below its normal level and blocks the field of vision. The eyelid may encroach or cover the pupil. Ptosis may affect just one eye or both eyes. Ptosis is different from the loose and redundant skin of the upper eyelids (dermatochalasis) or extra fold of skin caused by droopy eyebrows.
Most often, natural aging is responsible for the weakening of the levator muscle (the main eyelid muscle) and stretching of the eyelid skin, but congenital ptosis present at birth or traumatic injury later in life can cause a drooping eyelid. The ptosis repair procedure solves the problems associated with drooping lids by tightening or shortening the eyelid muscle so that it can once again raise the upper eyelids adequately.
Would You Benefit from Ptosis Repair?
Ptosis surgery can be considered for cosmetic or medical factors. Severely drooping eyelids sometimes make eyelid surgery necessary to restore a better quality of life. Candidate for ptosis repair should be in overall good health without serious eye conditions or other underlying medical problems. The following concerns can be treated during your reconstructive ptosis repair:
Droopy eyelids that cause impaired vision
Fatigue or headache from straining the forehead muscles
Heavy feeling on the upper eyelids
If patients have significant amounts of sagging skin on the upper eyelid, ptosis repair can be combined with blepharoplasty (eyelid lift) for optimal results. This can be discussed at your consultation along with any other questions or concerns you have about the procedure.
The Ptosis Repair Procedure
The ptosis repair procedure typically takes 30 to 60 minutes to complete, depending on the degree of ptosis and the surgical method used to correct it. Dr. Ghafouri will begin by making a small incision in the natural crease of the upper eyelid. From this point, he will expose the levator muscle and either trim it to shorten it (in cases where it is stretched out) or tighten it if it has weakened. If the patient has significant amounts of excess upper eyelid skin, an eyelid lift or blepharoplasty may be performed at the time to achieve better cosmetic results. In mild cases of ptosis, a different muscle (Muller's muscle) is tightened through an internal eyelid incision. Dissolvable sutures are then used to close the incision.
Ptosis Repair Recovery
Mild to moderate swelling and bruising around the eye area and temporary blurry vision are normal symptoms after ptosis repair. Patients often take 3-5 days off work but more strenuous exercise, including bending and lifting, should be avoided for 10-14 days. Contact lenses should also be avoided for 2-3 weeks or until the incisions have fully healed. Dr. Ghafouri can prescribe pain medication and lubricating eye drops to keep you comfortable during recovery and he will provide you with detailed post-operative instructions. Although future muscle weakening is possible, most patients can enjoy permanent results from this procedure.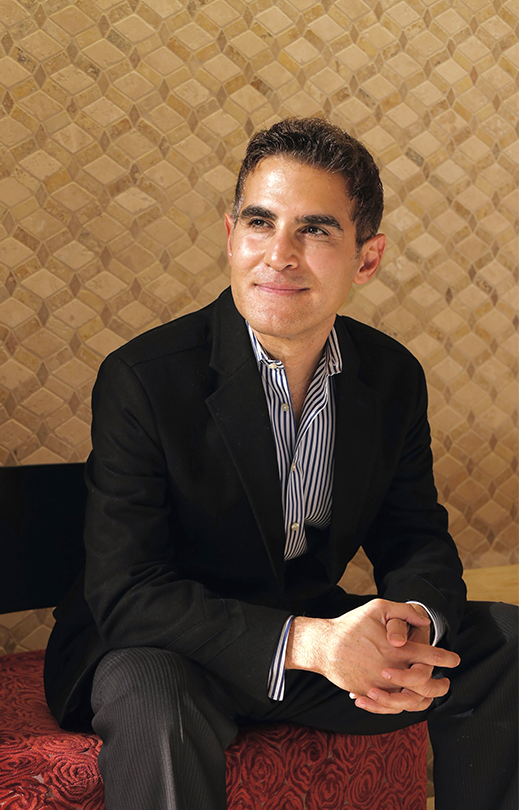 Dr. Ghafouri MD, FACS, is a board-certified ophthalmologist with specialized training in oculoplastic and orbital surgery. His exclusive specialization in cosmetic and reconstructive eyelid and facial surgery sets him apart from other plastic surgeons who practice a larger range of facial and body surgeries. The eyes are a complex and dynamic structure that requires the trained eye of an eyelid surgeon like Dr. Ghafouri to achieve the best possible results. He has performed over 12,000 aesthetic and reconstructive surgeries, each with a personalized approach and commitment to exceptional results.
Learn More
SEE OUR PATIENTS'
"A wonderful practice full of caring practitioners. Dr. Ghafouri was patient in answering all of my questions and concerns. And the results speak for themselves."
"Dr. Ghafouri and his team are very professional and knowledgeable. Very well-educated in his specialty and very helpful. His office environment is clean, bright and efficient."
"I give Dr. Ghafouri the highest rankings in all categories! He is kind, patient, compassionate and above all, a brilliant surgeon! I wish he could be my doctor for everything medical! Thank you Dr. Ghafouri! I have also used Kyle for injections and she is patient kind and so knowledgeable! Made the experience painless and comfortable!!!! Truly a wonderful office with a sweet staff all around!"
Dr. Ghafouri offers virtual consultations for out-of-town patients. We see patients from all across the country who trust Dr. Ghafouri's unique skills and expertise for their facial or eyelid surgeries. If you choose to travel to Arizona for your surgery, we can also recommend hotels and other resources to make your stay comfortable.
To schedule a virtual consultation with Dr. Ghafouri Click here.
Contact Us
What procedure are you interested in?
What procedure are you interested in?